The English text follows the original French text.
– –
ESTHÉTIQUE DU GRIS AU NOIR  – ŒUVRE PHOTOGRAPHIQUE DE YUTA ARIMA
par Nicolas Grenier
« Je vis descendre du ciel un ange ». Apocalypse de Saint-Jean, Chapitre XX.
De Paris à Tokyo, Yuta Arima est un observateur de son temps. Son œil de photographe le mène dans les grandes et les petites villes. Les presqu'îles de la solitude. Les marges de la finitude. Un littoral vide. Dans les lieux qui seraient des non-lieux. Face à ses yeux, la réalité est aiguë. Lignes horizontale, verticale. Sécante, suffocante. Formes circulaire, cellulaire. Face à l'objet, aucun sujet. Seulement des rescapés. Le linge flotte au vent. Le miroir s'est cassé. La vie se reconstitue par fragment. Peut-être la mémoire s'est-elle déchargée.
Le temps se contracte. Du moins, il se fige. Il se rétracte comme du gel. Par-delà le paysage, c'est l'hiver. Sur la route humide, on avance : neige, boue, frimas. Sont-ce là les ruines d'un passé ? On traverse une forêt. Dans une clairière, on découvre un ciel atomique. Ici et là, de mauvaises herbes. En haut, des fils électriques. À l'horizon, tout grésille. Dans le champ d'à côté, une fumée s'échappe. Temps nucléaire, dirais-je. Le monde de l'atome n'a pas de dieu. Dans un coin, l'eau est un passage vers le ciel.
Dans l'œuvre de Yuta Arima, le gris est l'instant, où la photographie prend forme. Entre ombre et lumière, des silhouettes disparaissent. La vie n'est qu'un champ de matériaux : verre, béton, plastique. Un éclat de couleur, avant que tout ne disparaisse, au-delà du blanc. C'est l'instant avant les rafales de balles à Dubrovnik. Ou après le massacre d'un village aux lance-flammes. Sur un continent balafré. L'Histoire a souvent lieu hors champ. Tout voyage n'est qu'un exode. Comme un signe d'adieu, un wagon part pour le bout du monde. Ailleurs, c'est au milieu de nulle part. Il n'y a plus rien que du sable, les cendres d'un feu, et toujours du gris. Tout au plus, la vie sur Terre est un mur décrépi, face à la mort.
– –
ESTHETICS FROM GREY TO BLACK – PHOTOGRAPHIC WORK BY YUTA ARIMA
by Nicolas Grenier
"I saw coming down from the sky an angel" Apocalypse according to Saint John, chapter XX.
From Paris to Tokyo, Yuta Arima is an observer of his time. His photographer's eye takes him to cities and small towns. To inlets of solitude. To margins of finitude. To an empty coastline. To places that would be non-places. In front of his eyes, reality sharpens. Horizontal, vertical lines. Cutting, suffocating. Circular, cellular forms. In front of the object, no subject. Only survivors. Laundry floating in the wind. The mirror broke. Life is coming back in fragments. It could be that memory let go of its burdens.
Time stops. At least, it freezes. Withdraws like gel. Beyond the landscape, winter is here. On the wet road, we go forward: snow, mud, icy rain. Are those the ruins of the past? We go through a forest. In an opening, we find an atomic sky. Here and there – weeds. Above – electric wires. On the horizon – everything is crackling. In the next field over, smoke is rising. Nuclear time – shall I say. The atom's universe knows no god. In a corner – water is a path to the sky.
In Yuta Arima's work, grey is the moment, when photography takes form. Between shadow and light, silhouettes disappear. Life is but a field of materials: glass, cement, plastic. Colors bursting before all else disappears, beyond whiteness. It is the moment just before the rounds of bullets in Dubrovnik. Or after a village has been massacred with flamethrowers. On a scarred continent. History often happens outside of the camera's perception. Each trip is only an exodus. A wagon leaves for the end of the world – a sign of adieu. Elsewhere – is in the middle of nowhere. There is nothing left but sand, the ashes from a fire, and – always – grey. At most, life is a decrepit wall facing death.
 (Translation: Akissi Goffinet / Lucie Bonvalet)
– –
Rosetta (Suivi de Philae) – Nicolas Grenier
L'Echappée Belle Edition (2015)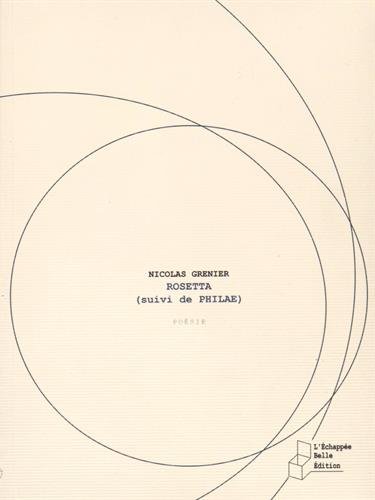 A côté la Seine Au détour de La Défense Cent vingt-sept haïkus – Nicolas Grenier
Le chasseur abstrait éditeur (2015)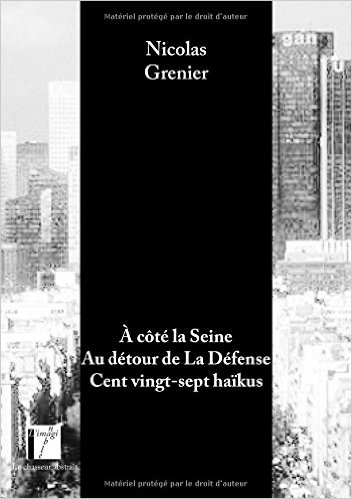 Palais de l'Elysée Hôtel de Matignon Quai d'Orsay & Autres Lieux de Pouvoir de la République Française en Haïkus – Nicolas Grenier
Editions du Cénacle de France (2015)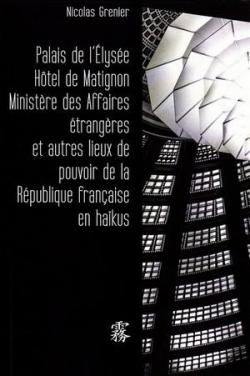 Quant à Saint-Germain-des-Prés, trente et un tanka sur la main d'après – Nicolas Grenier
Editions du Tanka francophone (2011)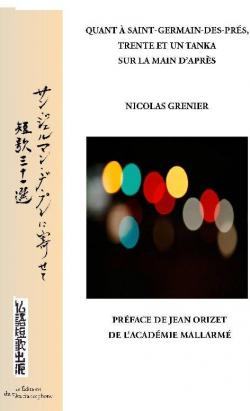 – –
Photography
Home
–
All Rights Reserved. Copyright © 2016-2021 Nicolas Grenier